BRUNCH A LA CARTE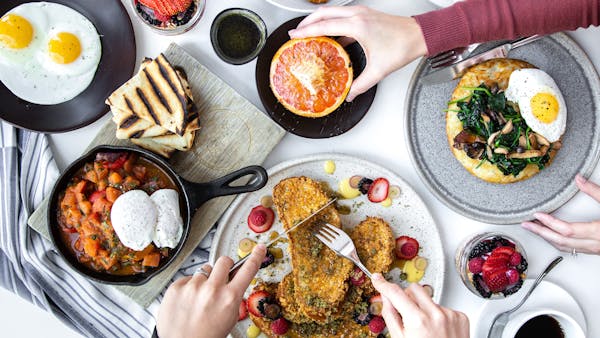 Join us for brunch every Saturday and Sunday in ARC.

BRUNCH A LA CARTE
Saturday + Sunday
11:30 am - 2:30 pm

LATE NIGHT LAST NIGHT

Root Down Smoothie 12
turmeric, carrot, beet, blueberries, orange, coconut water
Super Green Smoothie 12
spinach, wheat grass, coconut waterm ginger, apple, banana
Berry Smoothie 12
blueberry, raspberry, acai berry, bananas, yoghurt

Fruit Plate 16
fruits, berries

JUST GETTING STARTED

The Omelette 22
mushrooms, asparagus, goat cheese, breakfast potatoes, toast

Avocado Toast 22
sourdough, breakfast potatoes, two poached eggs

Smoked Brisket Hash 24
sweet potato, mixed peppers, BBQ sauce, two poached eggs

CHEAT DAY

Buttermilk Pancakes 18
blueberry compote, maple syrup

Brioche French Toast 18
bananas, valrhona dark chocolate mousse, hazelnuts, maple syrup

House-made Belgian Waffles 18
berries, whipped vanilla cream, maple syrup
ALL THINGS HOLLANDAISE
with poached eggs, english muffin, hollandaise, breakfast potatoes
Classic 24
kasseler ham

Sockeye Salmon 24
cold smoked

I'VE HAD MY COFFEE

Cobb Salad 26
chicken, bacon, egg, tomato, avocado, blue cheese, buttermilk dressing

Steak + Egg Tartare 19
mustard, crispy shallots, sunchoke + potato chips

Seafood + Fried Egg Salad 32
smoked salmon, prawn, crab, watercress, radish butter, crispy shallot

Croque Madame 22
kasseler ham, fontina, béchamel, fried egg

KICKSTART YOUR DAY
available after 9:00am | prices shown do not include applicable taxes

Bloody Mary 14
1.5 oz Finlandia vodka, tomato juice, tabasco sauce, Worchestershire sauce, spicy green beans, lemon juice, salt rim
Caesar 14
1.5 oz Finlandia vodka, clamato juice, tabasco sauce, Worchestershire sauce, spicy green beans, lemon juice, celery salt rim
Mimosa 14
4 oz Prosecco, orange juice

Spiked Arnold Palmer 14
1.5 oz Finlandia Vodka, unsweetened tea, lemonade

Amaretti Affogato 14
1.5 oz Amaretto, coffee ice cream, espresso

ARC
Simply inspired, handcrafted fare presented in a relaxed West Coast setting. Sample Chef Michael Pagnacco's seasonal tasting menus or try a little bit of everything with our ARC Boards, designed for sharing. Our sensational bar has an amazing selection of local craft beers, world-class wines and garden-inspired cocktails mixed to perfection. Local performers take the stage for live music every weekend.