BRUNCH A LA CARTE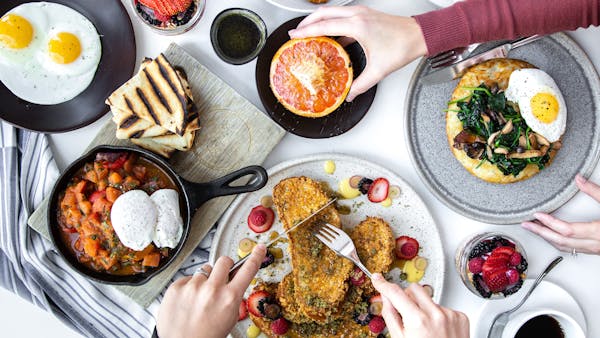 Join us for brunch every Saturday and Sunday in ARC.

BRUNCH A LA CARTE
Saturday + Sunday
11:30 am - 2:30 pm

Avocado Toast 22
sourdough bread, herb ricotta, mixed greens, poached organic egg, hollandaise, fruit salad
Fisherman Stew 24
halibut, cod, crab, clams, fennel, poached eggs, saffron tomato sauce, grilled sourdough
Vegetable Frittata 22
organic eggs, spinach, asparagus, wild mushrooms, caramelized onions, brûléed brie cheese, mixed green salad
Smoked Brisket Grilled Cheese 26
provolone, pickled pepper slaw, sunny side up free range eggs
Croissant French Toast 20
Frangelico, espresso + mascarpone cream, cocoa crumble
The Longshoreman's Plate 28
two eggs, ham, chorizo, pork belly, potato cake, tomato, toast
Breakfast Flatbread 18
smoked salmon, salsa verde, queso fresco, avocado, pico de gallo, two organic eggs
Benedicts
served with poached local farm fresh eggs on an English muffin with hollandaise, roasted tomatoes and savoury potatoes
Classic 24
Kasseler ham
Garden Rooftop 22
kale, creamed wild mushrooms
Salmon 24
smoked salmon

ARC
Simply inspired, handcrafted fare presented in a relaxed West Coast setting. Sample Chef Michael Pagnacco's seasonal tasting menus or try a little bit of everything with our ARC Boards, designed for sharing. Our sensational bar has an amazing selection of local craft beers, world-class wines and garden-inspired cocktails mixed to perfection. Local performers take the stage for live music nightly from 6-10pm.